JASON PETERS
p a i l e o n t o l o g y

curated by E L K

JASON PETERS, paileontology, will be on view at ROBERT BERMAN GALLERY during August, 2007.
A Reception for the Artist will be held on Saturday, 11 August, 2007, from 7-9.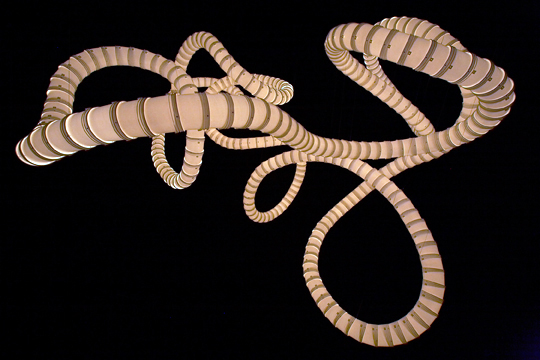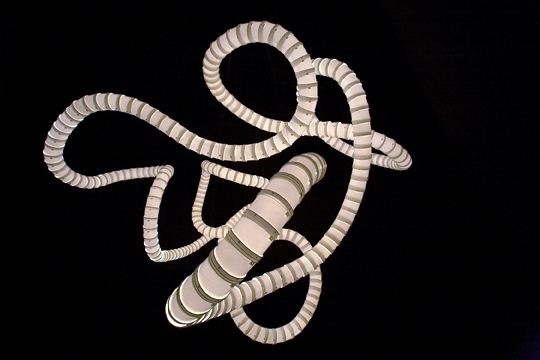 Brooklyn-based artist, Jason Peters, makes his west coast debut this August, 2007, with a large-scale installation at ROBERT BERMAN GALLERY. Peters will transform his host gallery into a world of infinite darkness, inhabited by a megalithic, luminous form. Using simple industrial materials and light, the artist effaces the traditional white gallery space, and erects rhythmic structures that echo our visual notions about deep space, molecular science,planetariums, dark rides, and hallucinatory rabbit-holes. With his singular, signature style, Jason Peters conjures space in the tradition of artists such as Richard Serra, and Gordon Matta-Clark, using urban objects and surfaces to alter our perception of an artwork's authorship, sociological place and purpose. With grace and stunning ingenuity, he follows in the legacy of those like Marcel Duchamp, Man Ray, and others who introduced and championed the use of objects trouvées in their three-dimensional works.
A graduate of the Maryland Institute College of Art, Baltimore, Maryland (1999), Peters is the recipient of two highly sought-after residencies, including one from the renowned Mattress Factory, Pittsburgh, PA, 2006, as well as an upcoming residency at the Bemis Center for Contemporary Arts, Omaha, Nebraska, Fall 2007. His work has been included in numerous group exhibitions since the late 1990's and was the subject of two large-scale installations: The Space in-between, Brooklyn, New York. 2005, and Continually Becoming, in Sante Fe, New Mexico, 2004. This is Peters' first solo show in California.
German by birth, Jason now lives and works in Brooklyn, New York.

For more images and updates go to
www.zutiste.typepad.com

artist cv

pressrelease.pdf

As the history of art becomes longer and more crowded with work, it becomes increasingly difficult to create
something truly original -- and that's exactly what Jason Peters has done with this amazing sculpture.
Encompassing the microcosm and the macrocosm in one fell swoop, it's like a piece of music you've never
heard before that's instantly burned into your memory.
- Kristine McKenna