Marischa Slusarski




The Bruise of Human Contact




October 13 - November 3, 2007





Selected works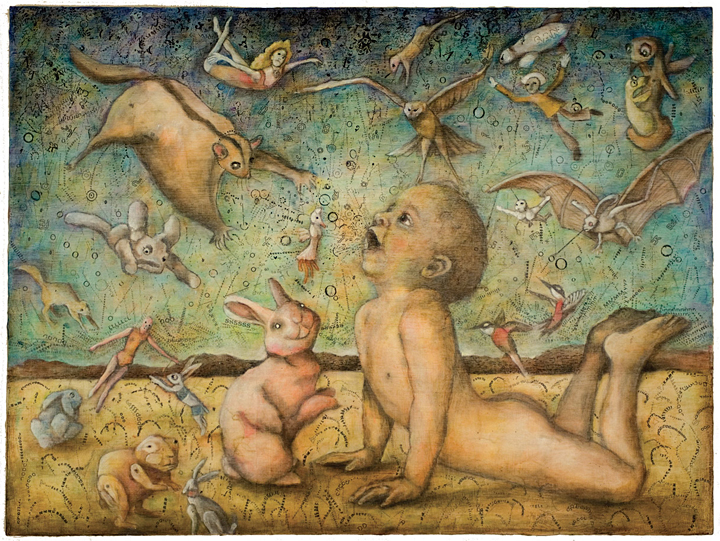 30 Percent Chance of Raining Toads, 2007, Mixed Media on Canvas; 48 x 36 inches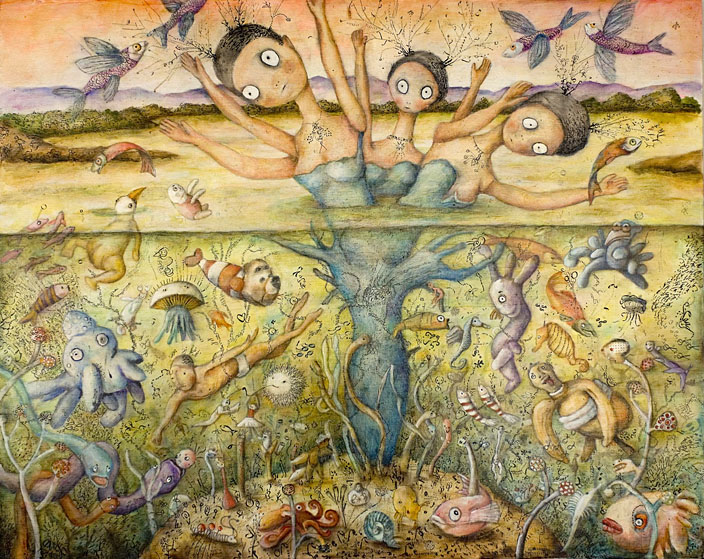 Seemingly Ecstatic Extremophiles
, 2007, Mixed Media on Canvas, 68 x 54 inches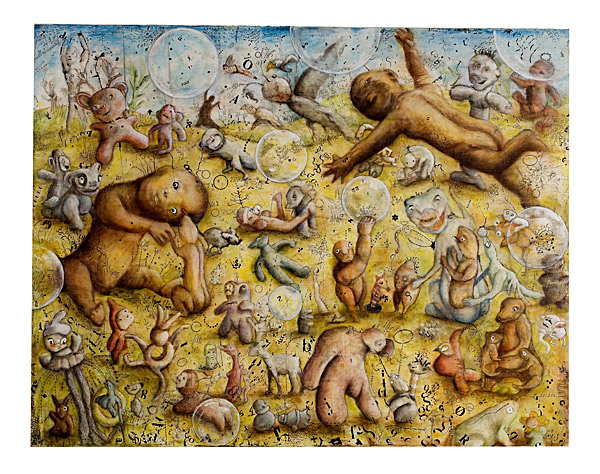 Spawning Gardens, 2007, Mixed Media on canvas, 59 x 46 inches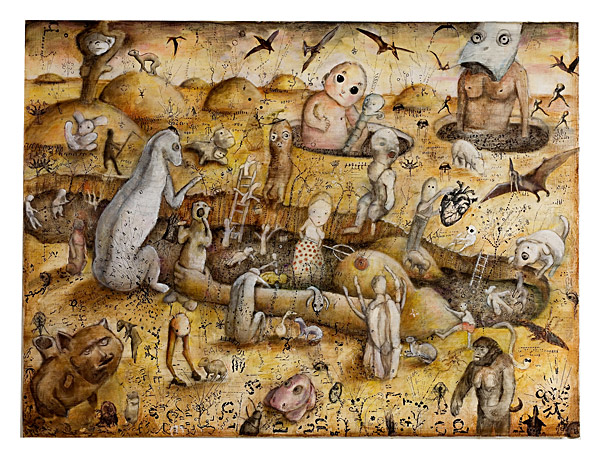 Partial Excavation of Amy, 2007, Mixed Media on canvas, 48 x 36 inches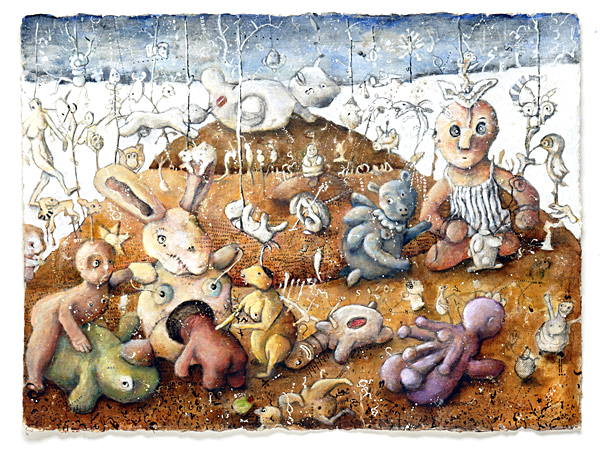 Snowbound Fertility Park, 2007, Mixed Media on paper, 30 x 23 inches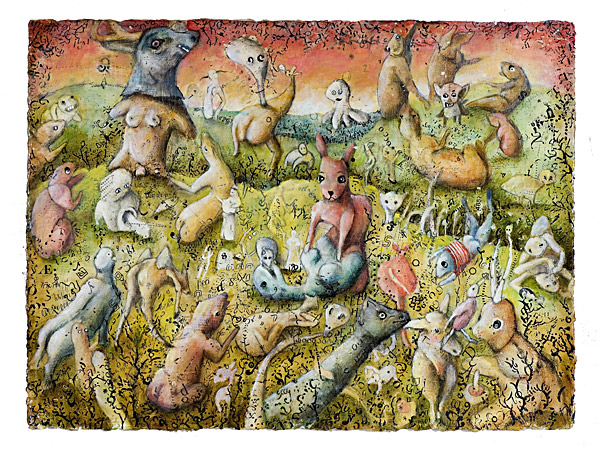 Frisky Masquerade Beneath Flames, 2007, Mixed Media on paper, 30 x 23 inches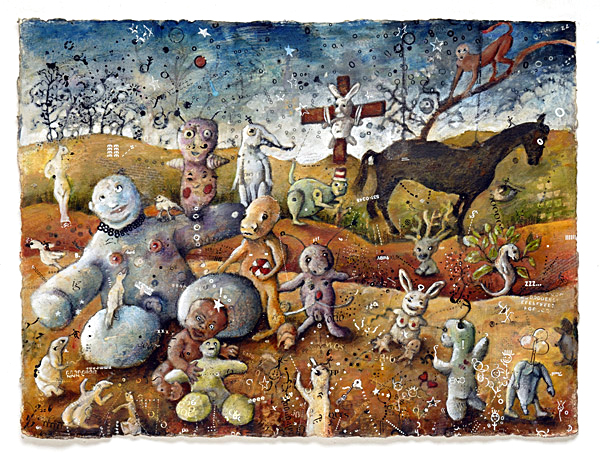 Halcyon Days of Rabbit Summer, 2006, Mixed Media on paper, 30 x 23 inches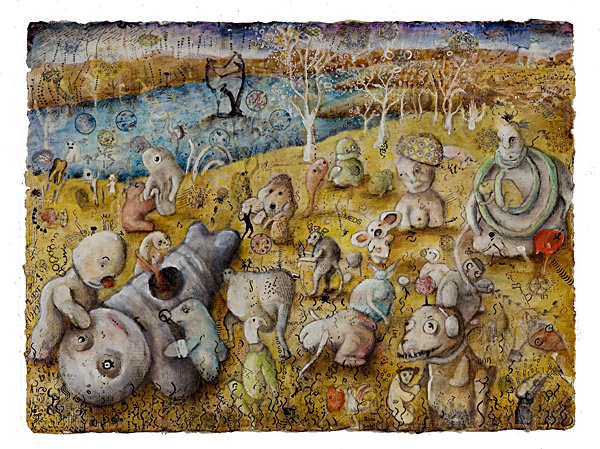 Nocturnal Playtime, Memory Lake, 2007, Mixed Media on paper, 30 x 23 inches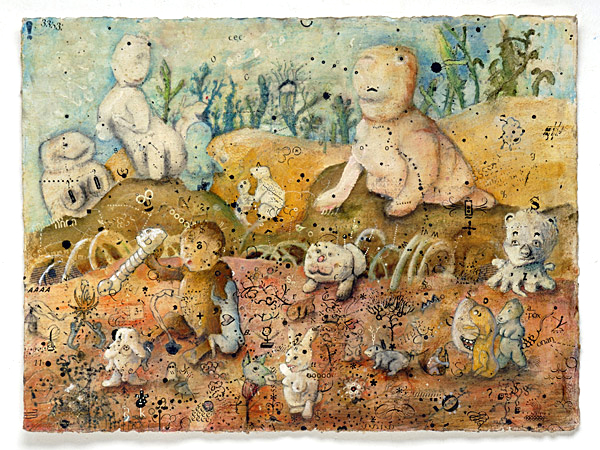 Octopus Bones, 2006, Mixed Media on paper, 30 x 23 inches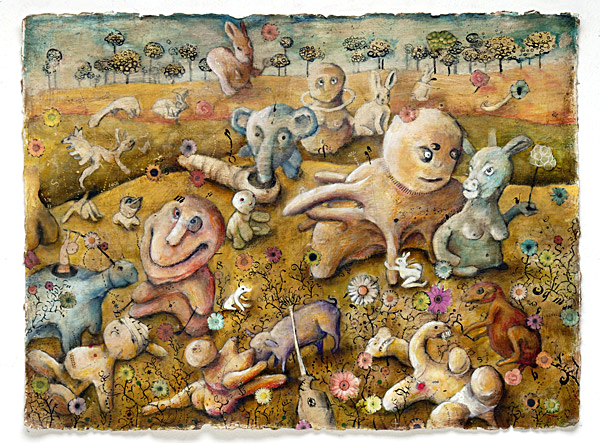 Scent-Marking Euphoria, 2006, Mixed Media on paper, 30 x 23 inches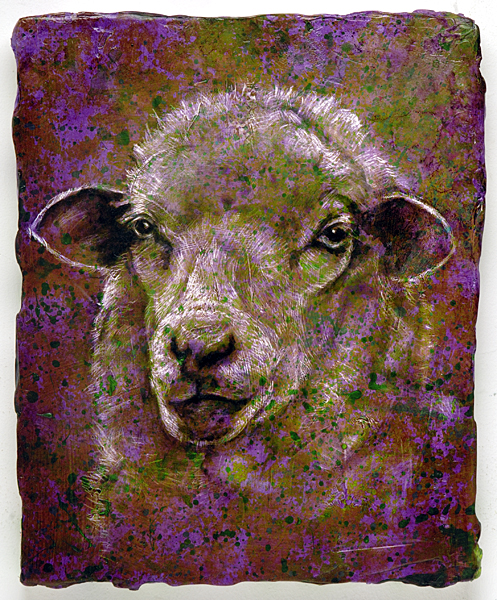 Sheep, 2006, marble dust on acrylic on oil on canvas, 20 x 16 inches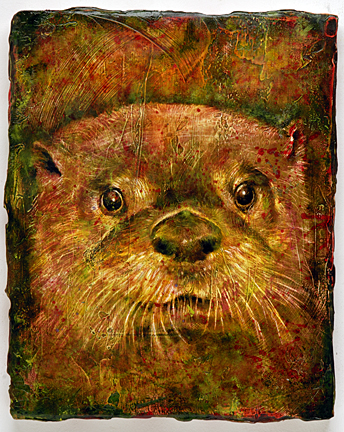 Se
Otter, 2006, marble dust on acrylic on oil on canvas, 20 x 16 inches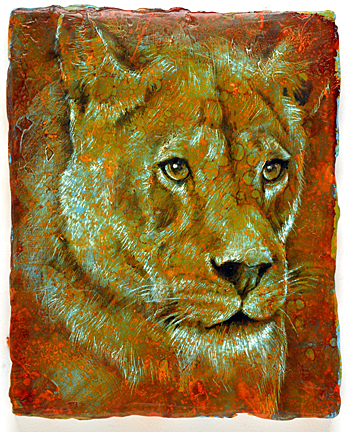 Lion, 2006, marble dust on acrylic on oil on canvas, 20 x 16 inches
This current work represents a new series informed by Slusarski's previous photographic dioramas, as well as her classical beast paintings, which indicate her love of all things beautifully mutant, and include reoccurring guest stars from her London Photos series along with a new repertoire of iconographic cartoonology. Also on view are intimate portraits of exotic animals that posses human-like qualities amplifying their archetypical and mythical power, to comment on human nature and the question of "naturalism." Both bodies of work explore the artist's recurring themes of predation, infantilism, power dynamics, genetic modification, gender ambiguity, racial panic, and western constructs of nature and our domination over the "natural."
Shana Nys Dambrot states in the exhibition catalogue essay, Painter, photographer, sculptor and designer Marischa Slusarski portrays the geography and inhabitants of a world that, while imaginary, speaks directly to the poetic, whimsical and emotional fabric of our own.
Slusarski has always used a variety of media to give form and flesh to her menageries. Her early, deeply textured and painterly works depicting sexualized familial groups of anatomically anomalous forest creatures were grounded in an almost classical approach to stylized realism and muscular painting technique. Her latest works on paper and canvas build from those sensual surfaces of pigment and marble dust, adding other kinds of image-making including vibrating, post-folk line drawing and a black rain of text-based typography transfers, in an approach that is more illustrative, more self-consciously symbolic and emotionally raw.
Like a version of Hieronymus Bosch's Garden of Earthly Delights reconsidered in a nursery school idiom, her wavering hills and valleys of flattened dirt are excavated and trampled by a host of humanoid babies, pie-eyed animals and other accidents of nature. The skin, bones, sinews and artifice that comprise her magical freak shows seem to take unmediated pleasure in their own agitated magic, clinging to remnants of innocence and juvenile ingenuousness.
Early in her artistic career, Slusarski collaborated with John Goss on the NEA funded remake of "Forbidden Planet," shown at Highways Performance Space in Santa Monica and founded "The International Foundation of Body Painters, " whose performance art team worked in Hollywood nightclubs including the legendary "Water the Bush."
For the past ten years, she has pursued a successful career as a gallery artist, exhibiting paintings and photography in the U.S., Europe and Asia. Her work is represented in many private, public and institutional collections. In the year 2000, Slusarski moved to London to create a body of multi media, photographic work as part of an independent work-study program and exhibited the work in numerous solo and group shows in London and the U.S. While in London, she also helped to create new pathways for emerging artists to realize their work, founding Underbelly in London's Brick Lane gallery district, presenting live performances, media fusions, video and film festivals, and site-specific installations.
Slusarski was recently nominated as one of 300 artists in the U.S. for a USA Fellowship Grant, an unrestricted award sponsored by Ford Foundation.